---
Featured Link 8/24/01

The William Blake Archive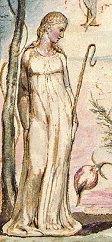 This is a rich and challanging site. "The William Blake Archive is an online hypermedia environment that allows its users to access high-quality electronic reproductions of a growing portion of Blake's work. ...We envision a unique resource unlike any other currently available for the study of Blake--a hybrid all-in-one edition, catalogue, database, and set of scholarly tools capable of taking full advantage of the opportunities offered by new information technology. ...By eventually incorporating as much of Blake's pictorial and literary canon as possible--with both images and texts organized, interlinked, and searchable in ways that only hypermedia systems will allow--the Archive will for the first time give scholars and students access to the major intersections between the illuminated books and Blake's other creative and commercial works."

Image: Detail, "The Book of Thel." Library of Congress. Copyright (c) 2001 the William Blake Archive. Used with permission.


Link Archive Past links of the week and featured links.
---


Links

Spaceweather Find out about sunspot activity, meteors, northern lights. There are many exquisite images of auroras in their aurora gallery.

Early Music FAQ The web's largest reference for European Medieval and Renaissance music - theory, examples, recommendations.

Composer Richard Einhorn's Home Page "Richard Einhorn's unique musical style has been described by critics as 'hauntingly beautiful,' 'incredible,' and 'spectacular.' He has written chamber music, songs, ballets, and film and theater scores. Some of his music is the most beautiful I have ever heard. You can hear samples on his site.

Ray Lynch's Home Page Ray Lynch talks about his music. You will also find samples, and can order his CD's here.

Endicot Studios A site whose mission is "to explore the ways myth and folklore are used in contemporary arts."

Don Fogg's Home Page Don is one of the finest knife makers in this country, if not in the world. On his quirky and delightful pages are examples of his craft, and his thoughts on knife making, life, and much more.
---