07/14/03
Monday.
In my previous entry I mentioned that the "cousins' reunion" was not my only trip. In fact it was the shorter of two major trips - well major for me. The Thursday following the reunion, Marlene and I drove almost 200 miles up to Lincoln, Vermont for a Buddhist teaching.

What I want to describe first is something that happened the next day as we returned home. Midway between Middlebury and Rutland is a small town called Brandon. The population is just over 4,000 and it is a beautiful example of an old New England town. We were traveling on Route 7, an old road that passes directly through a number of towns rather than branching around them. As we came in to the center of Brandon, the truck we were following came to a stop for no immediately obvious reason - no stop sign or light.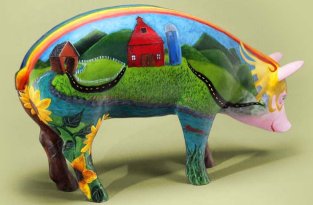 Then I saw crossing the road in front of the truck an elderly woman drawing behind her a small wagon in which was standing a brilliantly painted life-size model of a pig. And it was a stunner of a pig.

For the next few blocks, I looked diligently to see if there were more pigs - and there sure were: in front yards, public areas, just glimpsed down a side street, everywhere there were pigs. Soon I was muttering, "Brandon - Vermont - pigs," over and over to set the town in my memory. As soon as I got home and back online, I ran to Google to find out what this all was.

It turns out it is a community art project - forty life size pigs plus three small ones. The idea is to raise money for a number of things at once - arts in the schools, an artists group, and such. But the imagination that has gone in to this is staggering. I mean, to think of someone saying, "Gee, we need to raise some money so let's buy a bunch of fiberglass pigs and then paint them and put them all around town." Well - I would be happy to live in a town with so much whimsy and gumption.

Here's what happened at the official presentation of the finished works:

"The Pigs of Brandon were unveiled Memorial Day weekend, 2003. It was a cold and rainy Saturday, but nothing could dampen our town's enthusiasm. Thousands of people from far and wide turned out to watch and cheer as artists and sponsors proudly paraded their pigs through the streets of Brandon! After the parade, everyone gathered at the Chamber of Commerce sponsored Ice Cream Social behind the Brandon Inn to get their scoop and scope out the heavenly hogs. Over the next few days the pigs were taken to their summer homes. Residences and businesses throughout Brandon will host the pigs for the season, where they might be seen peeking from behind a white picket fence or greeting visitors with flowers at a gift shop.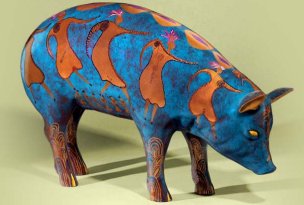 At the end of September, some of the Pigs will be auctioned on eBay, an internet auction site. The remaining pigs will be sold at a live auction here in Brandon on October 11, 2003. Proceeds from the sales will benefit all eight of our area school's art programs, the Brandon Artists Guild, and other community-related arts projects."

I'm damned sure I want one of these pigs for my new house - though I doubt the price will be in my range. Even so, it'll be fun to follow the eBay auctions.

The porkers have their own web site, Pigs of Brandon where you can read their complete stories and see images of every one of them. It is really worth a visit.

[Return to Top]
07/10/03
Thursday.
I'm exhausted with the business of buying a house and preparing to move.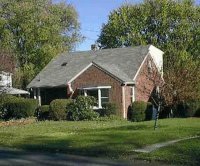 Emotions flip from high to low in the space of a quarter hour, and I think I just have to brace myself for the bad moments - according to "House Buying for Dummies" nobody gets through this process without times of anguish. But I'm looking forward to the moment when the worst of it is over.

In the midst of this all, I've been doing more traveling than I've done in years. Back on June 28th, (just two days before what should have been our closing day,) we had a family reunion of sorts - it started when Chuck Ericson suggested it might be nice for all of us cousins to get together, and then it spread a bit beyond. I worked pretty hard to put it together, contacting people, figuring out a date, and various other things.

Marlene ended up going with me, which was a relief, because the first part of the drive, from here in Kingston to Torrington, Connecticut, where my mother and brother live, was the longest drive I'd ever done. Especially since I'd never made this trip before, I was nervous about doing it by myself. With Marlene along, it turned into an adventure.

We left Friday evening right after Marlene got out of work. The drive was pretty much straight east, all on local roads because there are no convenient interstate for this route. There was little traffic, and the scenery was very beautiful - it was a pleasure to drive. We got there without incident, other than a couple of wrong turns, just as it was becoming dark. There was time for a pretty good visit with Mom that evening.

The next morning, we took off again, Rich driving this time, again traveling pretty much east through Hartford and out to Boulton to Chuck's home. But this was much nastier driving - interstates where many of the other drivers were doing over eighty, while we kept to a sedate seventy-five. I did not like this at all.

Cynthia and her husband Bob were the only ones to arrive before us (in their eye-popping silver Nissan Z.) I had not seen Cynthia in perhaps 20 years - and had never met Bob. So this was a great start. And of course Chuck was there - looking as he had when we had all been at Ella's back in the early '90's. (Or was it the '80's? I'd have to check my old journals to be sure.)

Next Christine arrived. This was wonderful, because our parents' generation had had a years' long falling out, so I hadn't seen Christine in perhaps 30 years. I was very happy to be back in touch with her after so long.

Later, Cynthia's daughter Betsy and her husband, and several of Cynthia's grandchildren arrived. And traipsing in last (I think) was my sister, Pam. My youngest brother, Jamie (Jim now, of course) never made it - held back by the 30 foot boat he was dragging behind him as he drove all the way from California.

We had all agreed to bring old family photos - so we could reminisce about the past, and our whole families. That ended up being the center of the day. For the rest, we talked, joked, ate and had a wonderful time. Late in the afternoon, one by one people left - Cynthia and her family had the longest drive since they'd come down from Massachusetts.

On the way back to Mom's we passed through West Hartford, and Rich took us a bit out of the way so that we could drive by 93 Grennan Road, where I'd lived much of my early years with Grandma and Grandpa Law. Marlene and I had gone back there many years ago - and the neighborhood seemed depressingly tacky then, but now it has come back up, and looked fine. But I could recognize the house only by the address. With it painted white rather than the gray that I knew, and all the trees around it gone, the maples in front, the low-trimmed yews under the windows, and the tall pine screening the side porch, it did not seem like the same place at all. It looked naked and blocky and uninteresting, not the warm home I remembered. So we drove by and then continued back to Mom's.

At Mom's we had a moment for coffee, and then packed up our few things and drove back to Kingston.

In the past, as family members have died, somehow their loss has felt to me as though lights have gone out. And the places they lived have shifted from being warm-feeling towns to which I had a connection, sometimes even an ancient one, to being meaningless coordinates on a map; unrelated to me.

This reunion was a time of reconnection, and lights going on - places becoming homes again, lived in by my own family. I had not known that this was possible. It was a very happy weekend.
[Return to Top]
06/07/03
Saturday.
It's raining again. Lately I've been seeing yellow lines and markings all over the sidewalks and the driveway. I wondered if they were supposed to indicate cracks and areas that needed repair. There were a lot more this morning on the wet pavement and it finally dawned on me that they are actually accumulations of pollen that the rain has concentrated as it dried. So many trees are in flower - honey locust, mock orange, and I don't know what all else.

Yesterday was beautiful. So, not to miss what is proving to be a rare occasion this spring, I drove out to Ashokan. I've been wanting to get some photos around the reservoir because I find it achingly beautiful. If I could have a house anywhere, it would be right there, with that view of the mountains. Here are two of the photos I took.






And a house not far away:





The theme music for the Ken Burns' mini-series, The Civil War shown about a decade ago on PBS, is a piece called "Ashokan Farewell". It was written by a local musician, Jay Unger. I'd found the music haunting and the series wonderful - cried my way through many of the segments without always being sure why. Only after I'd moved up here did I learn the name of the theme song and its association with this area. It fits somehow. (If you have RealPlayer and would like to hear Jay Unger and Molly Mason play Ashokan Farewell, click here. ) Now you can see the land this music commemorates.

To learn more about Jay and Molly, you can go to their home page . In addition they have a monthly radio show called Dancing on Air - information about the show and a wonderful collection of past broadcasts are archived here.