Amazing Art

A Celebration of Consciousness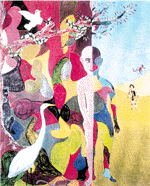 "After the Fall" by Charles Jenulevich

"Amazing Art proceeds from or addresses radical change - an instantaneous alteration of self. Paradoxically, tragedy and creativity both may occur instantly, requiring no prerequisites, only appropriate conditions. The production of art under such conditions gives rise to the authentic emanations of the artists' inner lives. The result is Amazing Art, which may be thought of as an incredible and unique synthesis of spatial relationships that reveals wholeness authentically. Inherently ironic, Amazing Art is an assertion of the possibility of accomplishment and the creation of beauty. The art-making process instills a sense of meaning while contributing to the goals of health improvement and community re-entry." - Bill Richards

The exhibition, "Amazing Art - A Celebration of Consciousness" was on view at The Samuel Dorsky Museum of Art, SUNY, New Paltz, NY from June 4 through July 20, 2001. The exhibition included works by 28 artists from NCSC, paintings by Bill Richards, and photographs by Francois Deschamps. Shown below are some of the artists' works.
Artists
Click on the artist's name for a short narrative about the artist.
Click on the small images to see larger images.